Fresh Ideas
Yes, we're in the food business. But we're also in the idea business.
We push ourselves every day to innovate. By staying in touch with today's food and restaurant trends, we keep your menus fresh. Your patrons insist on it. Which is why, with your input, we consistently bring new ideas to the plate.
For over 40 years, we've been servicing the industry with solutions tailored not just to today's market, but tomorrow's. We know that innovation is the key to success in the restaurant business and we never stop moving forward with fresh ideas and new solutions.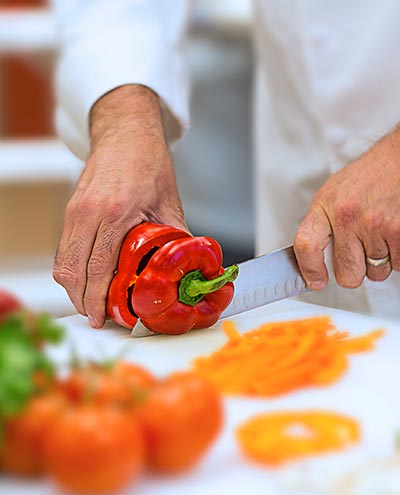 Custom Solutions for Restaurants
While the food may change, the goal remains the same - to create a dish that your customers love.
Our solutions will bring them back to your restaurant again and again. We make the investments and commitments necessary to ensure that you get the freshest, easiest-to-prepare, most cost-effective products available.
Our research and development team are experts in creating customized product solutions. We offer the services of 14 culinary R&D specialists including seven chefs and seven food scientists.
What We Do
Unique, fresh, delicious. That's what your customers want.
Which is why we work so hard to create dishes that compliment your menu and distinguish you in the marketplace. We start with quality ingredients prepared to the highest standards to make soups, sauces, side dishes, appetizers and entrees. Our food is then fast-frozen for on-time delivery, every time.
We deliver consistent ready-to-eat products that you heat and serve, and component products, which help manage complexity in your kitchens. We prepare the food you need now, and start creating the food you need tomorrow.